A Defining Moment In Our Story
We truly believe our community should and will be better because of our mission and vision of reaching and serving people. As leaders we must prioritize and prepare for the ministry of reaching people today and reaching people tomorrow.
What will it take for us to reach our giving in goal in three years or less? It will require each us to pray and prioritize based on how God is calling us to be apart of the journey. The commitment chart shows what it will take for us to reach our $1,800,000.00 giving goal with the 230 giving units (families/individuals) that regularly give to Renovation's mission and vision. Additionally, the chart shows what could happen if everyone was able to participate. Maybe you don't see a commitment that you can commit to. Would you pray about and consider committing $1,000.00 over three years, which equals $1.00 per day? How is Jesus calling you to be apart of the journey?
A commitment is a declaration of your intentions, which will allow us to payback our private loan in three years or less. It is not a binding contract, but a declaration of your intentions.
"Faith is the confidence that what we hope for will actually happen; it gives us assurance about the things we cannot see." Hebrews 11:1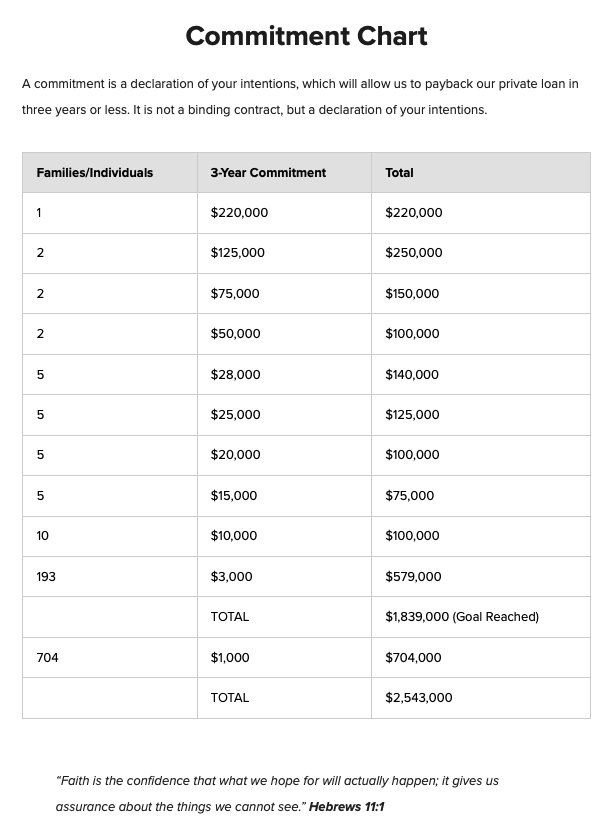 You can always give by check (made payable to Renovation Church) or cash. We have a time of giving during each weekend gathering, or you can mail your gift to:
Renovation Church
P.O. Box  1129
Hampstead, NC, 28443
If you choose to give cash, please consider placing it in an envelope with your name and mailing address so we can properly account for it and ensure you are eligible to deduct it on your taxes.
Stocks, bonds, and mutual funds are great ways to give without incurring capital gains on appreciated assets. Gifting appreciated assets results in a double tax benefit:
If you've held the asset longer than one year (long-term capital gain property), you avoid paying capital gains tax on the appreciated asset;
The gifted amount is an eligible tax deduction and will be listed on your annual church giving statement.
THE FUTURE HOME OF RENOVATION CHURCH
In 2020, Renovation was able to secure 20 acres of land located at the intersection of HWY 17 and Sloop Point Loop Road that will one day be the future home of Renovation Church. This property will provide a home not just for our current faith family, but for thousands more who have yet to experience a relationship with Jesus.
The "FOR THE ONE" story includes you! We'd love to hear your response to: "How has God provided for you so you can engage on this journey?" Please share your stories using the form below.